Es geht los! Hier kommen unsere ersten Gewinner*innen der listen to berlin Compilation 2020/21 :
Alin Coen – Du bist so schön (a capella Intro)
FERHAT – Pehlivan – Turkish Wedding Mix
IKE and Sera Kalo – In My Feelings
VOIG7 – GREEN LANES
EP Part Two: https://listentoberlin.lnk.to/listentoberlin2
Night-Visions – naive
Kalthauser – Alles Gute
KOKA – Let Them Know
Liesl – Statue
MKSM – KNOW YOUR LOVE (orchestral)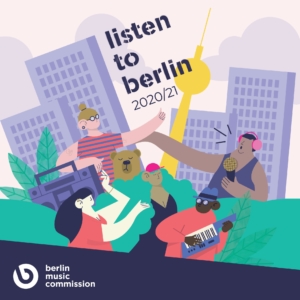 Ein großer Dank geht an die Jury Nicky Böhm (
Beatport
), Markus Kavka (
DELUXE MUSIC ®
), Olaf Kretschmar (
Berlin Music Commission
), Mara Spitz (
Deezer
), Lisa Riepe (
Zebralution Digital Media Distribution
) & Jill Schneider (
Landstreicher Booking
)!
Ab dem 11. September werden die Titel in wöchentlichen EPs veröffentlich, die gesamte Compilation erscheint am 5. Oktober zusammen mit dem Start des Publikumsvotings für die Awards. Also verfolgt täglich unsere Social Media Kanäle (listen to berlin Facebookseite & BMC Instagramaccount) damit ihr jede*n Künstler*in kennenlernen könnt und euch direkt die Lieder anhören könnt.

llustration by Svenja Pokora
https://www.berlin-music-commission.de/wp-content/uploads/2020/09/119038975_4061891937170657_1688607051570347258_o.jpg
1954
1954
BMC
https://www.berlin-music-commission.de/wp-content/uploads/2019/09/bmc_logo-weiss.png
BMC
2020-10-02 16:11:33
2020-10-26 18:17:01
listen to berlin Compilation – Out now!